A retro ray gun made from cannibalized brass components. Fluid lights in the end glass globe and a blue beam comes out of the nozzle.

A second, larger blaster weapon

If Nemo had a lightsaber, this is what it would look like.

More original light sword designs.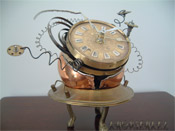 A working sprung clock (with a feather tipped second hand).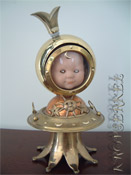 A steampunk doll. Who said that all dolls are scary? This one can change anyone's mind. Isn't she a dream?