Longshot rifle, tools, bodysuit, and pistols.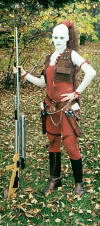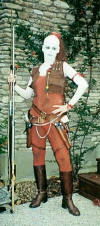 Mrs. Hyatt/Sing in the AS outfit.
Dan Hyatt had us provide the rifle, bodysuit, and tools for a costume he took to new levels.
Kudos to Dan for a brilliant piece of work.
Shown here with all the accessories, AS doesn't seem to care much about cleanliness. Our bodysuit here is artificially soiled with special effects make-up. Each stain and scuff was matched to the screen used suit. A two-way stretch, colour matched material was utilized to recreate the unitard.
Tool set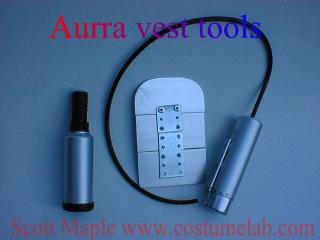 Some of the tools that appear in A's vest.
The left most prop is a canister on her back left shoulder, the centre plate (armour/mirror) sits in her right breast pocket, and the tube canister is on her right back shoulder.
AS rifle 2000s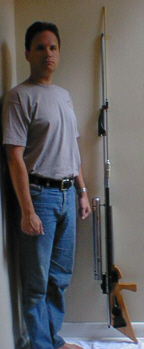 for reference, photographed beside a 6' 1" Scott.
Shortly after this photo was taken, the prop fell on him and rendered him unconscious for 3 days. (well, it could have happened)