Catching up with Darth Maul VIDEO
Watch our work featuring costume and make-up in these ads for the Space Channel/CTV spoofing what this amazing villain, and some familiar faces, are up to these days.

12 Days of Spacemas (Carolers)
12 Days of Spacemas (Mistletoe)
Ancient style, modern appeal.
DM Combat set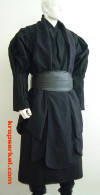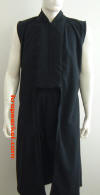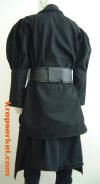 Please note that there are 4 different versions of the DM costume featured throughout this site. Ongoing improvements in accuracy and comfort have been possible through continued research and regular use.



Cloak and Robes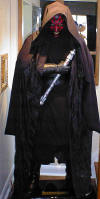 The majority of the cloak consists of vertical stitched sections.

Boots, Gauntlets, and Belts







Leather gauntlets and boots (not pictured). The waist pad features a stitched on centre loin cloth. The under pad is faux-leather, has a hook/loop fastener, and a buckle shield loop at the back. *Belts are 4 bound leather shown here with the imported Covertec saber base with clip attachment.
*Our latest version of the belt set features a low profile Velcro closure system.