Deluxe Leather Ranger Duster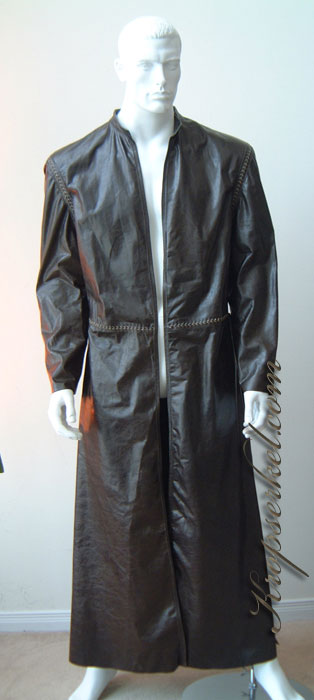 A stunning riding and fighting duster that is just begging to get that 'worn in' look. Comfortable and stylish, this is one garment that can be used on a daily basis, and sure to get attention. Features hand stitched sinew shoulders, back, and waist panels, a low mandarin collar and 'open front' design. Full waist cut vents at sides and rear enable horseback comfort, and easy access to your sword. The colour of this leather is a subtly unique mustard-licorice-black blend. Simply gorgeous.
Deluxe Gondorian RANGER Bracers / Vambraces
The Ranger 's vambraces (or bracers) in three tiered leather with stunning beveled carvings. Originally belonging to Boromir, these bracers were kept by Aragorn as a tribute to his fallen friend. This deluxe version of the prop is shown with hand carved and beveled detailing and a silver leafing tree motif. Each bracer is two separate components that include the armoured component in a firmer and thicker leather and a softer laced inner sleeve.
Deluxe Gondorian KING Bracers / Vambraces

What better protection for the arms to wield Anduril ?
The King's bracers in leather feature a simulated metal finish for the three tiered feather embossed plates and are fastened by metal buckle straps.